Sunday, March 30, 2008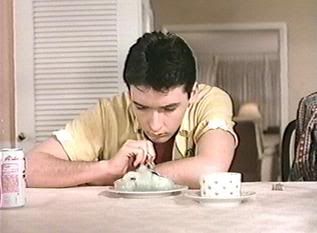 Who here has seen Better Off Dead? My favorite part is when the glob of raisin filled green goo walks off of Lane's plate. I think that has to be my favorite movie of all time. "Frahnch fries, frahnch dressing, frahnch bread. And to drink, Peru!". Anyways, haha. I met this girl in the Etsy forums last fall maybe? We both had a temporary obsession with those annoying buy and replace games that hog the promotions section. You can't help but get sucked in every once in awhile, know-what-i'm-sayin? How we met is blurry. I just know we both could quote every line from Better Off Dead. And you know how these Etsy friendships start. Someone says something funny or clever that ignites a spark, and then the other sends them a convo to make sure said spark turns into an eternal flame, and then voila, an ETSY bff relationship has formed. I remember one time sitting at the computer, laughing hysterically at something she had said to me in a convo, while Christopher stood at the kitchen sink with a disgusted look on his face. Oh wait, it was jealousy. And later he said "why don't I have any Etsy best friends?". Awww, there there. His time will come I'm sure.
I've been gushing about racheltrouble of course. Her Etsy shop is totally wicked. Everything she makes is totally unique, and I'm not gonna lie, creeps me out! But thats what I love about her items. ...Flashback ...When I was younger, I would spend every day at my Grandma's house, which was big, and I'm almost positive, was haunted. It was a two story house, built on a hill. The front door took you into the upstairs, the back door would lead you out through the basement. Does that make sense? Well the stairs that led to the lower level are what scared me the most. They were in the middle of the house, in what I can only describe as a double wide hallway. And hanging on the wall directly above the stairs, was a golden colored cherub faced wall statue. I don't remember if it held can
dles or not, but It was long, with and I want to say it did. Every time I'd walk down the hallway, I was afraid the cherubs eyes would follow me. They were always watching me. As soon as it started getting dark outside, I wouldn't be able to walk down the hallways past them, I'd have to run. I think thats what intrigues me so much about Rachel's Black Angel series. It gives me back the feeling I had as a 5 year old in my Grandma's haunted hallway. The Black Angel trinket box that she makes is gorgeous. Theres just something about it. When you were younger, did you ever watch movies like the Secret Garden and wish you had secret places to hide your things? I grew up out in the woods, with no cable tv. We had a river in our front yard, and trees all around us. I would go outside and play pretend for hours, imagining that
I lived in a castle and had treasures to hide away from my evil stepmother. Or I'd play Secret Garden, and pretend I had a skeleton key that needed to be kept away from everyone. So when I see this trinket box, I think of that. And just like a little kid, I fantasize about all of the fantastic things I could hide away inside of it. For $12, Rachel's Black Angel Series Trinket Box could be yours. Shes also got some beautiful Black Angel Candle Holders, that come with bleeding candles. How metal is that? The candle holders measure about 4 inches long x 2 1/2 inches up. I can think of a million different places to put these. And seriously... bleeding candles? Somebody needs these. Next time you're looking for troubled artwork, or someone to spice up a BnR, visit http://www.racheltrouble.etsy.com/.